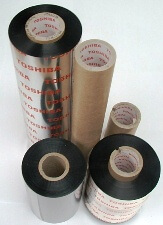 Thermal Transfer Ribbons for almost all label printers
Tanto Labels is a leading supplier of thermal transfer ribbons for almost all types of label printer. As a Toshiba TEC Value Added Reseller Tanto Labels has access to the entire range of Original Toshiba TEC Ribbons. We also supply original and compatible ribbons for Zebra, Datamax, Sato, Paxar Monarch Avery Dennison, Citizen printers, from global thermal transfer ribbon manufacturers such as Inkanto, Sony-DNP and ITW
What are the benefits and uses of
Thermal Transfer Ribbons?
Thermal transfer ribbons come into their own when particularly sensitive or synthetic label materials need to be used in the manufacturing procces of labels containing barcodes, graphics and text. They offer a much more streamlined and effective method of printing to the manufacturing industry which results in faster speeds, high durability levels and superiour color tones. At the end of the process there will be no wet ink to handle or dispose of.
Tanto Labels has many years' experience in matching thermal transfer ribbons to label face materials to provide the best possible print quality, scratch resistance and durability. Whether the labels are being used with Tanto-manufactured labels or not, we have the experience to select the most suitable thermal transfer ribbons ribbon for all label types.
Some customers prefer to buy labels with ribbons included, helping to reduce cost and simplifying the ordering process. Tanto will ship a matched quantity of ribbons with the label order, so reducing chances of running out of ribbons.
For further information about Tanto Labels Thermal Transfer Ribbons
Contact Us
by telephone or email for more details
Order Barcode
Labels Online
These categories are only accessible to vendors of corporations who have appointed Tanto Labels as their approved or preferred bar code label supplier.

Click Here

register if you are a vendor or

Click Here

if you need Retail Barcode Labels

These categories are only accessible to vendors of corporations who have appointed Tanto Labels as their approved or preferred bar code label supplier.

Click Here

register if you are a vendor or

Click Here

if you need Retail Barcode Labels