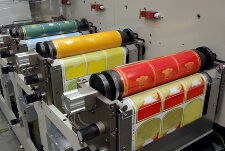 Custom Labels - Your Designs & Ideas Brought to Life
For cultivating a strong brand identity, custom labeling on your products can be a subtle but effective method of signaling your production value and attention to detail to retailers and customers.

With our in-house plate-making and printing, we have a diverse and versatile range of labeling solutions to fit your needs. Digital full-colour could be ideal for printing your logo on packaging to add a professional quality to your products, but we can also offer you colour-washed, solid colour and plain traditional labels.

We understand that, as a business owner, you may need more than just your corporate logo on a custom label - to help you there, we can offer you top-quality printed labels with barcodes, prices, serial codes and other variable data to help with the day to day running of your organisation.

For last-minute emergency labeling needs, we have a comprehensive selection of ready-made labels that - just like the rest of our range - can be shipped across the UK via high-speed delivery.

As a leading UK supplier, we want to share our expertise with you. If you have any questions about having custom labels printed for your organisation, feel free to call us for advice and to get a quote free of charge.
Tanto Labels manufactures custom Labels on rolls, sheets and fanfold formats. Visit our Gallery to view some examples of our work.
Order Barcode
Labels Online
These categories are only accessible to vendors of corporations who have appointed Tanto Labels as their approved or preferred bar code label supplier.

Click Here

register if you are a vendor or

Click Here

if you need Retail Barcode Labels

These categories are only accessible to vendors of corporations who have appointed Tanto Labels as their approved or preferred bar code label supplier.

Click Here

register if you are a vendor or

Click Here

if you need Retail Barcode Labels