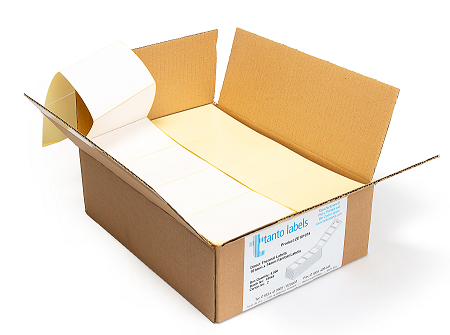 Fanfold Labels with NO Minimum Order Quantity
Fanfold Labels and tickets can be supplied in already finished, ready to use packs, or in a plain/blank or printed format ready for over-printing with fixed or variable data.
We offer two options at Tanto Labels: Fanfold Labels with sprockets which are for use with tractor-feed dot matrix and continuous laser printers, and Fan fold labels without sprockets for use with thermal and thermal transfer labels printers. Visit our Gallery to view some examples of our work.
Found what you're looking for? Let's get started. Request a free quote
Not sure what you need? Call us for advice on: 01934 417665
Sprocket or Pin-Fed Computer
Fanfold Labels for dot Matrix or Continuous Laser Printers
Although use of sprocket or pin-fed labels has declined over the years there is still a considerable residual demand for labels supplied in this format. Major printer manufactures such as OCE, Epson, Xerox and OKI still make and support printers which use this type of fanfolded sprocket stationary. Tanto Labels has a huge selection of cutters on a wide range of web widths and fold lengths to produce fanfolded labels for almost any printer type.
Fanfold Labels
for Thermal Transfer or Direct Thermal Label Printers
Thermal transfer / direct thermal label printers from manufacturers such as Toshiba TEC, Zebra Datamax Printronix Intermec are able to print on fanfold stationary as well as labels in roll format. Because these printers use friction feed, rather than tractor pin feed, no sprocket holes are needed.
Fanfold stationary is usually positioned behind or below the printer and fed into the printer through a slot at the back or in the base of the printer. There are some advantages of using fan-fold stationary with thermal transfer / direct thermal barcode label printers instead or labels in roll format.
Fanfold labels do not need cores so cost is slightly lower than roll labels, and it's often possible to get more labels in each carton, because fanfold labels are more densely packed and fit better in rectangular cartons. Benefits for busy or high volume label printing applications include reduced cost and less frequent empty carton replacement.
For thicker stocks such as ticket or cardstock fanfold stationary of often preferred because it stays flat, unlike rolls which cause memory-effect curl on cardstock.
Most of Tanto Labels' printing equipment is fitted with in-line fanfold finishing equipment. Maximum web widths of 475mm (18.7") can be produced on fold lengths between 101mm (4") and 419mm (16.5"). Over 2,000 label sizes and shapes are available from our extensive cutter list, whilst new cutters can be sourced on a next-day basis. Naturally, we provide fanfold plain labels, fanfold printed labels and fanfold barcode labels.
Up to 4 colours + variable data can be printed on a wide variety of label and card materials including, Vellum Semi-Gloss, Thermal Eco, Thermal Top, Polypropylene Polyester , Tyvek , Coated and Uncoated Cardstocks, Block-out and Piggy-back.
Tanto Labels sources label materials and cardstock direct from laminate and paper manufacturers such as Avery Dennison, Fasson, UPM Raflatac Manta, Herma, Ritrama, Mactac and Tenza.
Fanfold labels are sometimes referred to as ZigZag Labels, Cheshire Labels, Computer Labels, or Continuous Form Labels.
Order Barcode
Labels Online
These categories are only accessible to vendors of corporations who have appointed Tanto Labels as their approved or preferred bar code label supplier.

Click Here

register if you are a vendor or

Click Here

if you need Retail Barcode Labels

These categories are only accessible to vendors of corporations who have appointed Tanto Labels as their approved or preferred bar code label supplier.

Click Here

register if you are a vendor or

Click Here

if you need Retail Barcode Labels